Lucca Asymmetric Hem Velvet Dress
Lucca is inspired by an ALIGNE icon, the Harlin dress. The design features are the same, from the asymmetric hemline and elasticated waist to the keyhole detail at the back, but it's been reimagined in a soft, velvet finished with lots of dimension and long sleeves for cooler nights. Wear with a pair of heels or boots for a put-together look.
PRODUCT DETAILS

Long sleeves \ Asymmetric hemline \ Elasticated waist \ Sleeves with volume \ Keyhole detail at the back with button \ Pockets

Tumi is 5'9" and wears a UK 8 / US 4 / EU 36
COMPOSITION & CARE

100% recycled polyester \ Dry-clean only

Designed in London. Made in China.

We are committed to designing clothes with the future in mind. That's why 100% of our collection is made from at least 50% conscious materials.
TRANSPARENCY

Where we make our clothes matters. We scour the globe in search of the best makers and forward-thinking partners that share our values and passion for conscious fashion with credentials to match.

Who made this item?

We pride ourselves on our proactive, honest approach to everything we do. PFG helped us make this piece. Their factory is certified with the following: SMETA.
TAILORING SERVICE

Length too long? Waist not fitting right? Skip the return and make it fit.

We've partnered with SOJO to offer a seamless and high-quality tailoring service. We cover part of the cost so you can get your perfect fit. Learn more.
DELIVERY & RETURNS

Shipping & Returns

Our delivery option and rates vary from country to country. See our delivery policy.

If you want to return your order, a fee applies to your order – £3 for UK customers and £7 for US/EU customers The return fee will automatically be deducted from the refund at the time we issue it to you. See our full refund policy.

All of our orders are complete with recycled and recyclable packaging. Learn more

Help & Information

Do you need help with an order or sizing? Check our FAQs or get in touch.
What's My Size?
Designed in London, we use UK size conventions for all of our garments. We know it's not always easy to find your size when you're used to a different size convention. That's why we've created the tables below.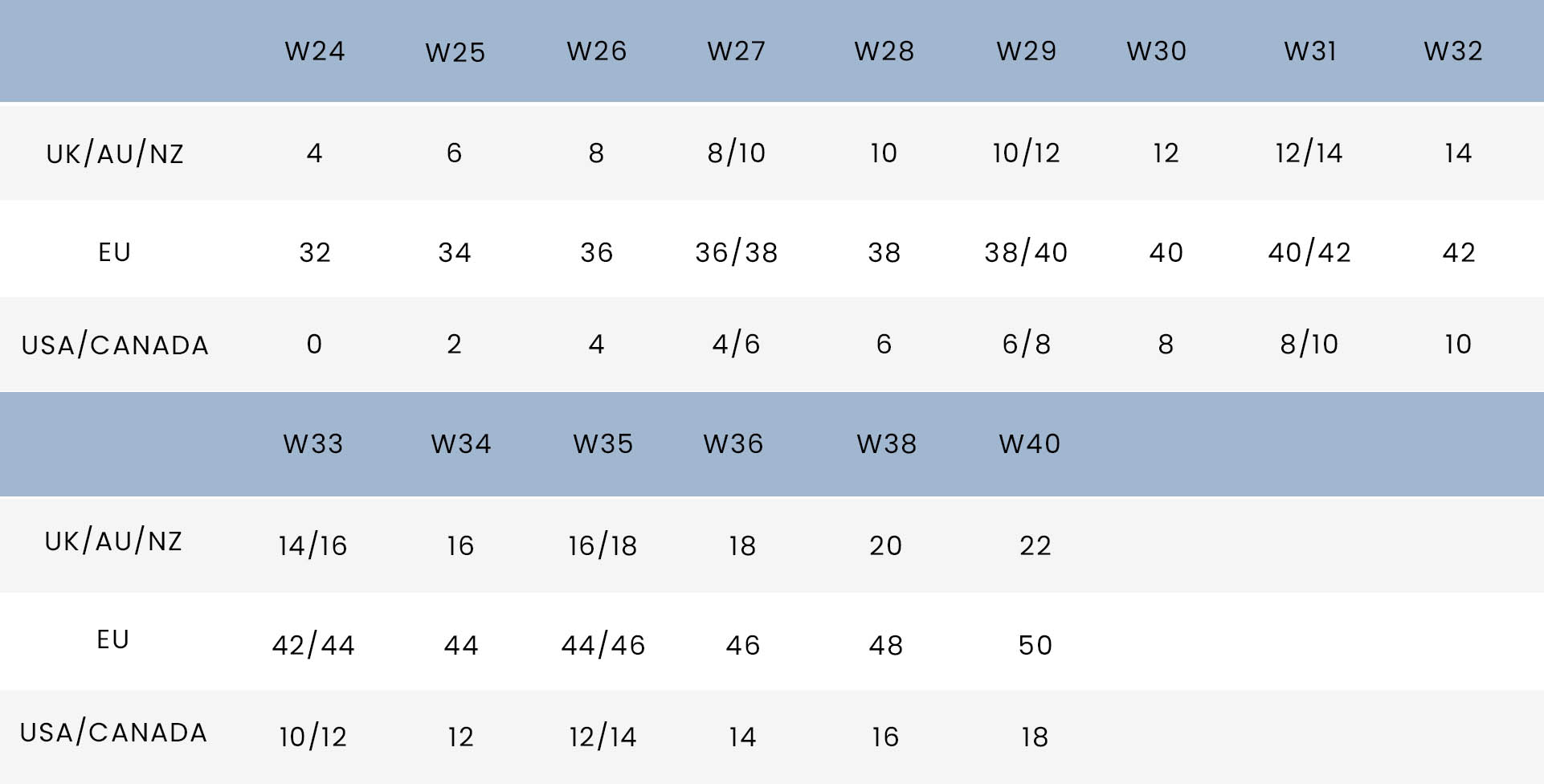 Need more help to find your size or unsure how to get the right body measurements? Check out our full size guide here or send us an email.
A UK 6 approximately corresponds to a US 2 and EU 34
A UK 8 approximately corresponds to a US 4 and EU 36
A UK 10 approximately corresponds to a US 6 and EU 38
A UK 12 approximately corresponds to a US 8 and EU 40
A UK 14 approximately corresponds to a US 10 and EU 42
A UK 16 approximately corresponds to a US 12 and EU 44
A UK 18 approximately corresponds to a US 14 and EU 46
A UK 20 approximately corresponds to a US 16 and EU 48
A UK 22 approximately corresponds to a US 18 and EU 50
An XS corresponds to a UK 4/6, US 0/2 and EU 32/34
An S corresponds to a UK 8/10, US 4/6 and EU 36/38
An M corresponds to a UK 12/14, US 8/10 and EU 40/42
An L corresponds to a UK 16/18, US 12/14 and EU 44/46
An XL corresponds to a UK 20/22, US 16/18 and EU 48/50
A W24 approximately corresponds to a UK 4, EU 32 and US 0
A W24 approximately corresponds to a UK 6, EU 34 and US 2
A W26 approximately corresponds to a UK 8, EU 36 and US 4
A W27 approximately corresponds to a UK 8/10, EU 36/38 and US 4/6
A W28 approximately corresponds to a UK 10, EU 38 and US 6
A W29 approximately corresponds to a UK 10/12, EU 38/40 and US 6/8
A W30 approximately corresponds to a UK 12, EU 40 and US 8
A W31 approximately corresponds to a UK 12/14, EU 40/42 and US 8/10
A W32 approximately corresponds to a UK 14, EU 42 and US 10
A W33 approximately corresponds to a UK 14/16, EU 42/44 and US 10/12
A W34 approximately corresponds to a UK 16, EU 44 and US 12
A W35 approximately corresponds to a UK 16/18, EU 44/46 and US 12/14
A W36 approximately corresponds to a UK 18, EU 46 and US 14
A W38 approximately corresponds to a UK 20, EU 48 and US 16
A W40 approximately corresponds to a UK 22, EU 50 and US 18